WHO WE ARE
Regent is a manufacturing company specializing in the production of various kinds of bags, silkscreen printing and heat seal technology. Established in 1992, Regent began as a silkscreen printing company and has expanded to produce a wide variety of private label and licensed products. Regent is an established international manufacturer with clients companies ranging across the USA, Europe, Japan and Inland China. Our mission is to provide reliable quality and efficiency. We strive to make your company a success.


THE MANUFACTURING PLANT
Our manufacturing plant is located in Shenzhen, China and is 100% owner operated. Occupying more than 10,000 square meters, Regent employs over 150 workers. By keeping up to date with market trends Regent provides the latest manufacturing processes. Our on site sample makers quickly create professional samples based on 2D or 3D drawings. We are also able to handle silkscreen printing and heat sealed processes in house.


OUR TEAM
At Regent our goal to please our customer with the highest level of quality and service in the industry. We have a dynamic management team and a dedicated well-trained and enthusiastic staff. Team work is our philosophy.
Our marketing team focuses on understanding each customer's needs, and communicating effectively. Our professional merchandising, R & D, sourcing & engineering teams are responsive and dedicated to providing the best service and achieving or even exceeding our customer's needs.
PRODUCT COVERAGE
Regent specializes in a wide range of products for children and adults. The items we handle include cosmetic bags, briefcases, ladies handbags, fashion bags, rucksacks, duffle bags, totes, computer bags, diaper bags, children backpacks, school bags, lunch kits, coolers, heat sealed PVC bags, plastic folders, etc.
CUSTOMER ORIENTED
We are customer oriented company, focusing on long-term client relationships. We believe that good quality and on-time delivery are the basic requirements for our customers and guarantee our prices are always competitive.
QUALITY CONTROL AND SETTING
"Quality Assurance" is our promise to customers. Our well-trained workforce's primary objective is quality. We employ a three steps quality control procedure, they are:
1. Incoming Material Inspection – to ensure the quality of all incoming materials before the start of production.
2. In-Line Quality Control – regular inspection of product quality during production.
3. Finished Product Inspection – every finished product is inspected for quality prior to shipment.
We are familiar with the ASTM & the EN71 testing standards. Our understanding of these standards expedites communication and the production process.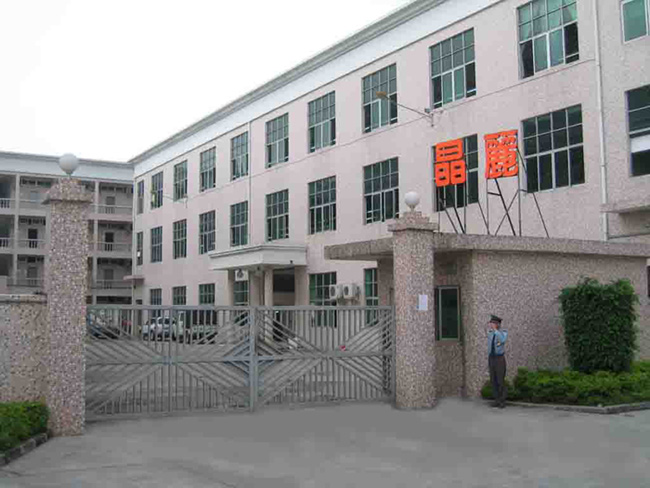 FACTORY LAYOUT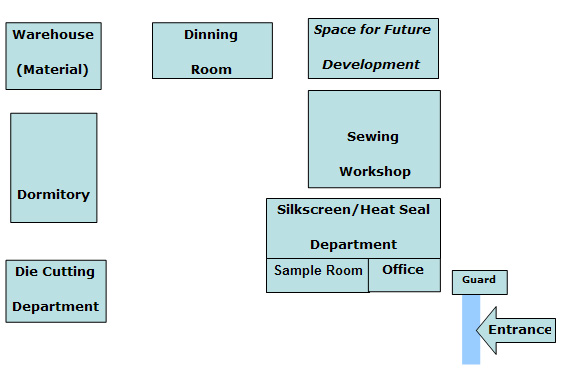 Plant Facilities in Long Gang, Sheng Zhen
| | | |
| --- | --- | --- |
| Factory | | 10,000 square meter |
| Number of Workers | | 108 |
| Sample Makers | | 5 |
| | | |
| Engineer | | 2 |
| Quality control Inspector | | 8 |
| Production Capacity | | 200,000 pieces monthly |
Machine Equipment List
| | | |
| --- | --- | --- |
| | | 50 |
| DY needle sewing machines | | 30 |
| Double stitch sewing machines | | 10 |
| Arm cylinders | | 20 |
| Electric saws | | 2 |
| Electric cutting machines | | 2 |
| Stripe cutting machines | | 2 |
| Webbing cutting machines | | 2 |
| Drying machines | | 3 |
| UV machines | | 1 |
| Transfer printing machines | | 2 |
| Heat seal machines (2 heads) | | 10 |
| Rivet machines | | 6 |
| Printing tables 2.25(L)×1.6M(W) | | 36 |
| Printing tables 35(L)×1.5(W)×0.8(H)M | | 3 |
| Printing tables 30(L)×1.7(W)×0.8(H)M | | 2 |
| Metal detectors (flat) | | 1 |
| | |
| --- | --- |
| Cut & Sew Workshop | Cut & Sew Workshop |
| Silk Printing Line | Silk Printing Line |
| Drying Machine | Cutting Machine |
| Heat Seal Machine | Heat Seal Machine |
| Packing line | Sample Room |